Greetings to Our Alumni and Friends
As we continue to adapt to a new and changing environment, the Center for Japanese Legal Studies recognizes not only the ongoing significance of our mission and work, but its increased relevance.  We feel that we've risen to the occasion, and are pleased to share with you what has been underway at the Center.
Center Events
Throughout 2020, the Center hosted and participated in events engaging students, scholars, and the community. Some of these include: 
February 17th, 2020
Criminal Justice in the U.S. and Japan: Lessons of the Carlos Ghosn Case
A panel of U.S. and Japanese experts explore the fundamental differences between the U.S. and Japanese criminal justice systems in light of the Ghosn case.
Daniel C. Richman, Paul J. Kellner Professor of Law
Daichi Ito*, District Court Judge, Japan
Sayaka Sekimiya*,  Public Prosecutor of Japan
Moderated by Nobuhisa Ishizuka, Executive Director Center for Japanese Legal Studies, and Fred Davis, Lecturer in Law; Retired Partner, Debevoise & Plimpton LLP
* panelists speaking in their personal capacity
L to R: Nobuhisa Ishizuka, Daniel C. Richman, Sayaka Sekimiya, Daichi Ito, Fred Davis
April 24th, 2020
East Asia's Response to COVID-19
Closely bound by travel and trade, with multiple high-density urban centers, the governments of China, South Korea and Japan have each had to contend with COVID-19's rapid spread. Yet each has taken a different approach to combating the virus and managing it at the national level. What accounts for both the different levels of preparedness and the different approaches in East Asia? What legal measures have been taken by each country?
Nobuhisa Ishizuka joined his counterparts, Ben Liebman, director of the Center for Chinese Legal Studies and Jeong-Ho Roh, director of the Center for Korean Legal Studies to discuss the comparative approaches, lessons, and the potential for trilateral cooperation.
November 4, 2019
Recent Developments in International Commercial Arbitration in Japan
There is a growing awareness among Japanese corporate legal departments of arbitration as a means to settle cross-border commercial disputes. The legal foundation has been laid for international commercial arbitration in Japan, Japanese courts are friendly to arbitration, and arbitration has received support from the government since 2017. Yet, Japan is rarely chosen as a place of arbitration. In this lecture, Professor Hiroshi Oda explored the current state of the arbitral regime in Japan, including some recent court cases, the challenges, and obstacles to it being designated as a seat of arbitration.
Lecture delivered by Hiroshi Oda, Member, ICC International Court of Arbitration (2003-2016); Professor, Waseda University, Sir Ernest Satow Professor of Japanese Law Studies, University College London; Attorney at law, Nagashima Ohno & Tsunematsu, Japan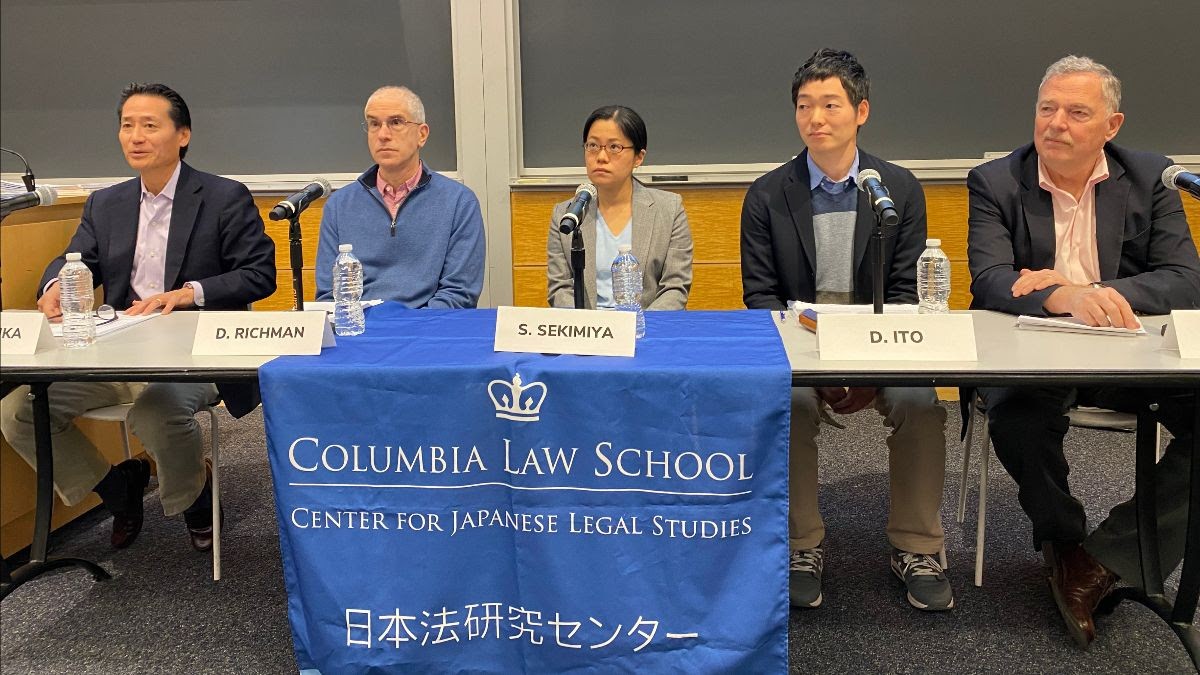 Student Activities
Morrison & Foerster Public Interest Fellowships in Japan
Thanks to the continuing generous support of Morrison & Foerster LLP, the Center for Japanese Legal Studies once again awarded fully funded public-interest fellowships with Japanese organizations to two CLS students for the summer of 2020. 
Koko Zhang and Nian Zhan spent their summers remotely supporting Human Rights Now!, a non-governmental organization that covers a range of human rights issues in Asia such as business and human rights, armed conflict, and women's rights.  Koko conducted legal research, writing, and advocacy on human rights, specifically those in the Japanese seafood supply chain. Nian researched and drafted statements on the impact of COVID-19 on Japanese society and immigrant workers.
 
These projects made me realize that workers, especially immigrant workers, are in urgent need of legal support and legal representation as they are constantly exposed to exploitive working conditions.
Nagashima Ohno & Tsunematsu Fellowship
The Nagashima Ohno & Tsunematsu (NO&T) Fellowship helps Columbia Law School attract the top J.D. candidates in the country with a professional interest in Japan. The Center awarded four NO&T Fellowships to incoming students in the Class of 2023 to Rochisa Togare, Nicolle Kwon, Katelynn Pan, and Zhendong Xu.
Shapiro Fellowship
The Center awards the Shapiro Fellowship to Columbia Law School students affiliated with the Center.  The Isaac and Jacqueline Weiss Shapiro Fellowship supports research on Japanese law by Columbia Law School students working under the supervision of a Columbia University faculty member. This year's fellowship will be awarded during the academic year.
NHK Student Group
The Center for Japanese Legal Studies would like to introduce the 2020-2 leadership of Nihonhō Kenkyūkai (NHK) student group. Leadership includes Koko Zhang as President, Nika Bederman as Vice President of Academic Affairs, Nian Zhan as Treasurer and Vice President of Social Affairs, Kan Ni as Vice President of Career Affairs, and Christopher Mawyer as 3L Representative.
We extend our appreciation to the outgoing board in which Christopher Mawyer served as president and, Roger Lu as Vice President, Yoshihito Tada as Treasurer, and Emily Gerry as 3L Representative
Interested in NHK? Please feel free to contact NHK with any questions that you may have at nhk@law.columbia.edu.
University of Tokyo Faculty Exchange
One of the Center's flagship programs has been the Faculty exchange with the University of Tokyo. Although safety concerns and travel restrictions prevented us from undertaking the exchange this year, we look forward to resuming the program in the future.
Beyond Columbia Law School
Mr. Nobuhisa Ishizuka has been active in building awareness and understanding of current topics in Japanese law. His analysis of the impact of Japan's high conviction rate, Why Is Carlos Ghosn Afraid of the Japanese Justice System?, appeared in the New York Times. Mr. Ishizuka was also interviewed by the BBC World Service about the Carlos Ghosn case on Business Matters and appeared on TV Globo (Brazil).  Mr. Ishizuka also moderated a panel, Alternative Facts: The Lies of Executive Order 9066, hosted by the Connecticut Bar Association. He also was contacted by numerous news media about current Japanese legal issues, including CNBC, Forbes and Vanity Fair. He continues to consult on Japanese legal, business, and economic matters for the forthcoming Apple TV adaptation of the well-known novel "Pachinko."